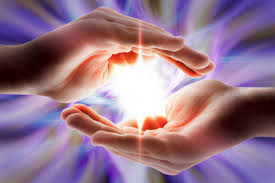 Reiki is a Japanese modality that made it's way to the United States in the 1900s. Translated, rei- means universal life and -ki means energy. It's a healing therapy using symbols to channel universal energy; a gentle force with little to no touch yet powerful results.

To be honest, everyone has the ability to conjure universal energy and I frequently did as an intuitive healer during massage sessions. Reiki training introduced tools to effectively channel that force with intention and focused attention. Reiki empowers us to heal ourselves and improve the physical, emotional and mental level.

After learning the history and my lineage to usuiReiki, I received the attunement which is a process where the Reiki Master opens channels in the hands and chakras to allow a direct connection to reiki energy. I concentrated on my heart and envisioned a lotus flower in it's place opening like a time lapse video on repeat with each bloom receiving luminous magic. I was going to use this magic for an acute episode of low back pain that I assumed manifested as a practice tool. After a short session I noticed the pain intensified and then subsided to a subtle annoyance.

The tools I learned in Reiki II were three symbols aimed at healing the physical, spiritual, and distant body. The distance symbol is likened to prayer and healing can be sent across any distance as well as through time to previous or future events. For example in practice, using reiki on surgical scars or sending reiki to an upcoming travel engagement. I heard an anecdote in massage school about a therapist used distance healing and they astonishingly felt when the patient momentarily left the table and when they returned. This was across the country!

In the end, reiki energy flows where it needs to go. Similar to plant medicine, reiki quiets the mind and strengthens the connection between ourselves and the energy to create harmony. It's is offered as a complementary therapy in hospitals and easily integrates with massage.

Sources: https://www.hopkinsmedicine.org/integrative_medicine_digestive_center/services/reiki.html
Contributed by our COO – Priscilla Solis
Add Reiki to your next Cannabis Massage Treatment session. Click the book now button and let Priscilla take you to the next level.