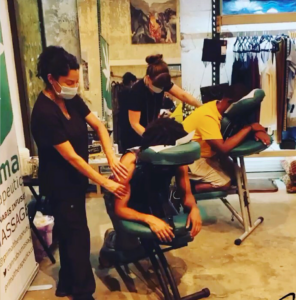 Founded in February 2014, Primal Therapeutics LLC offers cannabis infused massage therapy to local residents of Denver and to visitors of the beautiful city. What we do for our patients is unique because we bring the spa experience directly to your home, hotel, or business. We use a custom blend of infused oils used for our cannabis infused massage treatments. The products used have the highest cannabinoid spectrum possible for maximum healing potential. We bring chair massage directly to your event or workplace. See employee morale change in one afternoon! We also offer spa events throughout the year.
At Primal Therapeutics LLC we are dedicated to the education of cannabis plant medicine and holistic health. Our mission is to educate as many people as possible on the powers of living your life with alternative medicine. A life free of chemicals, dyes, and prescriptions and full of organic, healthy options. If you have questions and are wondering if cannabis massage is right for you or the condition you have please feel free to reach out to us anytime and we will do our best to advise you.
*All treatments with the option of infused cannabis lotions and medicated balms, may be non-medicated as well.
Services offered include:
Deep Tissue Massage Therapy
Lomi Lomi Massage
Hot Stone Massage Therapy
Pregnancy Massage
Sports Massage
Couples Massage
Ear Candling
Alpha Wave Inducing Guided Meditation
Infused full body scrubs
Cannabis Infused Massage Therapy is excellent for:
easing pain
alleviating arthritis pain
providing relief from fibromyalgia
boosting immunity
improving sleep
managing anxiety and depression
alleviate PMS
providing headache and migraine relief
increase blood flow
decrease toxins
ease cancer treatments
decrease cortisol (the primary stress hormone)
increase serotonin (learning, mood, sleep, exc)
increase dopamine (reduction of pain and mood enhancement)
injuries or tight muscles
improving joint flexibility
Cannabis Therapy Education:
including the benefits of cannabis oil for alternative healing measures -strain education regarding symptoms
a comprehensive and holistic approach to cannabis as a whole
Gift Certificates:
available in any denomination
expire from 1 year from date of purchase, unless otherwise noted by Primal Therapeutics LLC in writing
no refunds are available for any gift certificates purchased through Primal Therapeutics LLC
no gift certificates are valid unless distributed by Primal Therapeutics LLC