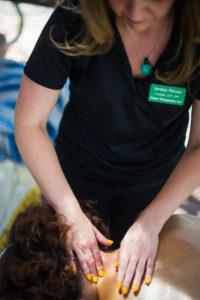 At Primal Therapeutics LLC we love our patients and we appreciate the reviews they leave us!
I have had massages from Jordan for almost 8 years. When I haven't been able to get in with her and went somewhere else, it just ends in disappointment. I always think of the Metallica song "seek and destroy" because that's what she does to your knots and problem areas! She comes to you, which is super convenient, and love the CBD oils she uses. I swear it allows her to get in deeper and relaxes the tissues. I regularly use the CBD products she makes. The salve is wonderful for pain and I LOVE her "soak and scrub" for my feet or dry skin in this denver climate. Jordan is a busy lady these days, so Priscilla is the best addition to her company. She has some strong hands and great energy! Thank u ladies for healing me in the best way! –Raechel K.
I finally got a massage from Primal Therapeutics and I recommend that you get one immediately ! I've been in the wellness and aesthetic industry for over a decade, and this truly felt groundbreaking to me. I never could have imagined getting a cannabis oil massage (in my lifetime) and the experience exceeded my highest expectations. Thank you! –Vanessa S.
I took Jordan's Cannabis Massage 101 class and it was worth every minute of my time and every dollar I spent!!! A phenomenal class full of up to date information and supportive instruction. Jordan's personal story is inspiring and her passion for the healing powers of plant medicine is truly energizing . I highly recommend than class to anyone looking to further their knowledge of cannabis and it's true power to heal. – Angela C.
Had a wonderful weekend of training with an added bonus of a massage! Thank you Jordan for a abundance amount of knowledge! –Kalena S.
We did the couples massage, absolutely worth it. Timely and professional, great communication. Perfect way to end our honeymoon, can't wait for the next opportunity to do this again! – Roxanne G.
Had my first massage with Priscilla at Primal Therapeutics and it was AMAZING! She took time to listen to the stresses and pains I had, both physically and psychologically, and centered the session around my needs. Afterwards I felt calm and peaceful for the rest of the day, and slept like a baby! I'll certainly be booking again! 
🙂 – Sarah G.
Jessica is amazing made me and my husband feel so wonderful. Recommended 100%. Thanks Jessica you rock.  –Brittany D. 
Jordan is amazing! The combination of her outstanding skills and the fantastic products she uses allows me to get a massage and not feel any pain afterwards! I have had many deep tissue massages and Jordan is the best I have ever had. With the use of the cannabis infused products, I have noticed a dramatic reduction in swelling and pain after. The fact is, for me, there is no pain and no swelling and that is something that I did not think was possible. I am truly grateful to have found Jordan and recommend Primal Therapeutics to everyone!   –Val L.
Jordan is AMAZING! I've been getting massages for 15 years, and she by far is the best therapist I've ever had! Her massages always significantly reduce my pain. She is truly gifted, in so many ways. Jordan is passionate, knowledgeable, and compassionate about what she does. It's not just a job for her, it's a calling, and that difference is reflected in every aspect of the massage. That is what makes her stand out above the rest!      –Angela B.
During a mini vacation to Denver, my cousin and I decided we wanted massages using local oils. Primal was great because they came to our hotel. Jordan, our masseuse, was amazing!  She told us her story of how she got into it and you can really see her passion for it. It was one of the best massages I've gotten in a long time. I highly recommend her.   –Vanessa Y.
Jordan gave me a partial massage after a traumatic car accident. Due to injuries I couldn't lay on a table so she catered to my needs in a chair and specifically focused on my problem areas. That massage gave my body a major amount of relief. For example my arm had a shooting radiating pain that shot from my elbow to my hand. That symptom subsided afterJordan's healing hands worked their magic.    –Julie F.
Jordan is the best therapist I've ever had! No one has been able to help me with my muscular discomfort from scoliosis more than her! She is beyond gifted at her job and has many skills no one else does.   –Kayla M.
Jordan is an amazing massage therapist! Her healing energy is vibrant and she knows right where your pain is and how to treat it!!! If you can get with her I highly recommend it!   –Shawna B.
Jordan is a phenomenal healer – for the first time in months, I have so much more range of motion in my hip. Her hands exude a warmth & light that I will engage again. Thank you!!!    –Diane F.
I am a past massage patient of Jordan's who has, unfortunately, had a great deal of experience with massage secondary to two significant car accidents in the past several years (both as a result of being rear-ended while sitting at a red light). In my experience, Jordan has been the single most effective and talented massage therapist I have seen. She is extremely strong and easily identifies your problem areas. Her knowledge and skill was what aided in my healing. I only wish she were still in Florida!     –Wendy L.