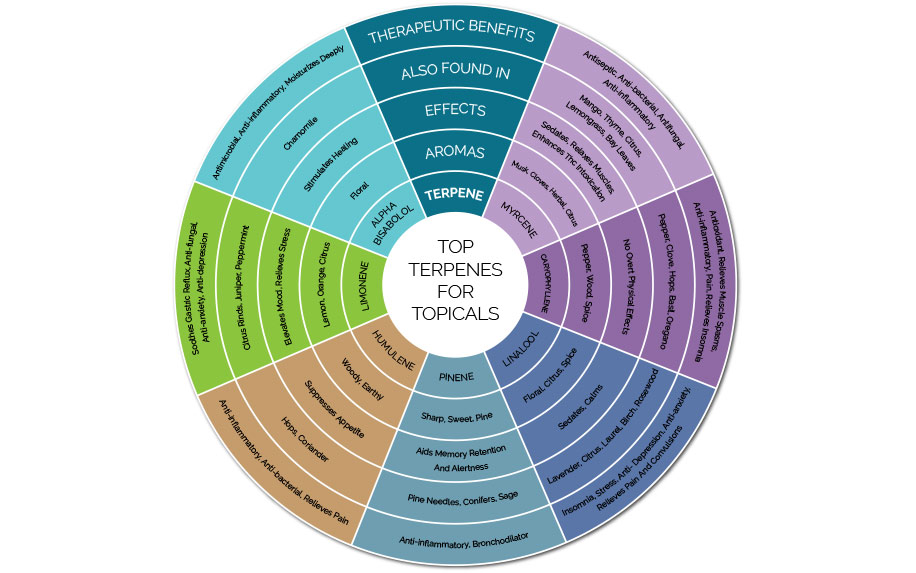 Terpenes might be the latest buzzword in the world of cannabis, but there's nothing new about these tiny — yet important — organic compounds. In fact, they've been around for as long as plants have been on earth, though we still have much to learn about them. For the makers of cannabis topicals (like me), terpenes represent one of the most exciting developments in recent memory, and while nobody's quite sure of what the future may hold for them, it's certain to be an interesting ride.
In case you're unfamiliar with terpenes, here's a quick background. Found in everything from the tiniest blade of grass to the mightiest redwood tree, these naturally-occurring chemicals give plants their aromas and flavors. They also help repel predators and, in some cases, attract pollinators as well. Scientists have identified around 150 different terpenes in cannabis, though most strains tend to have a dominant "terpene profile" of just a few varieties.
The terpene profile of a cannabis strain will affect how the strain smells and tastes to you, but it could also have a wide range of other effects — though scientists aren't exactly sure how yet. As a 2019 review in the journal Plant Science put it, "Arguably, the only effect of cannabis terpenes on humans that is unquestionable are the fragrance attributes." However, some scientists believe that terpenes could have untapped therapeutic properties, and as governments begin to loosen their restrictions on cannabis research, it's finally becoming possible to get a clearer look at what terpenes have to offer.
Dr. Ethan Russo, one of the world's most prominent cannabis researchers, suggests that a phenomenon known as "the entourage effect" may be behind terpenes' medical potential. In a 2011 study published in the British Journal of Pharmacology, he theorized that the chemical interactions between terpenes and cannabinoids "could produce synergy with respect to treatment of pain, inflammation, depression, anxiety, addiction, epilepsy, cancer, fungal and bacterial infections."
Other researchers have begun to test this theory in recent years, and they've found some promising results. For example, a 2018 paper in the journal Cannabis and Cannabinoid Research found that terpenes could be useful for relieving acute inflammation (i.e. the kind caused when you bang your knee against the coffee table). That same year, a study in Medical Cannabis and Cannabinoids showed that terpenes could play an integral role in stimulating the placebo effect — which might help explain why medical cannabis users credit the plant with relieving such a wide range of ailments. 
To continue reading this article by our Founder and Senior Medical Expert, Jordan Person please go to CannabisMD.com